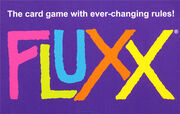 Fluxx
is a card game with changeable rules, designed by Looney Labs in 1996. The game has a fixed deck, but various expansions and versions allow for some degree of customization and variety. The chaotic rule structure and sense of humor are similar to 1kBWC. Some card game tenets that show up in Fluxx are:
An additional principle of Fluxx (which is not present in most games of 1KBWC) is the ability to change the goal of the game. A Goal card is rarely played in 1KBWC, and in many cases it draws inspiration from this game (or ends the game prematurely as an I Win Card).
Ad blocker interference detected!
Wikia is a free-to-use site that makes money from advertising. We have a modified experience for viewers using ad blockers

Wikia is not accessible if you've made further modifications. Remove the custom ad blocker rule(s) and the page will load as expected.